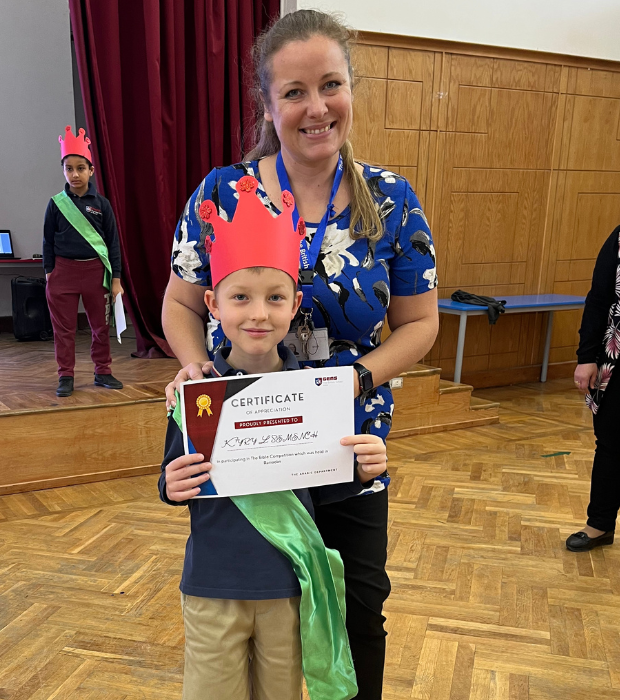 Primary School
KS1 & KS2
Welcome Message from the Head of Primary
Mrs. Rachel Hardwick
On behalf of the whole team, I'm delighted to welcome you to the Primary family at GEMS The British School, Al Rehab. At TBS we pride ourselves on developing children with a focus on our core values – this enables children to develop confidence and achieve excellence academically and socially.
We value greatly the home-school partnership and know that working together, we can support your child to reach their full potential.
Throughout the year, there will be many opportunities for children to showcase their skills and learning. We also have opportunities for student leadership (such as student council) and other extracurricular activities to enhance the learning in the classroom.
GEMS Core Values - How we live our Core Values everyday
1. Leading through innovation -Find the courage to challenge convention

We dare to dream of the possibilities

No idea is too small or too large if it makes things better for our learners and our people
2. Pursuing excellence -Work to continually exceed expectations

Just as we set educational standards for our schools, we ensure that everything we do is delivered to a high standard

We go the extra mile for our students and our colleagues
3. Growing by learning - Strive to develop your potential

Along with our students, we never stop learning

Each and every one of us has the capacity for leadership
4. Global citizenship -Making an active contribution to your local and global community

We respect and celebrate our diversity and recognize that there are many things that unite us all

We make a difference in our local communities so that we can build a sustainable planet to share

We build bridges of knowledge, push boundaries and unite young people.

We aim to produce not just great students, but great people who live with honesty, confidence and integrity
Curriculum Overview
The core focus in Key Stage One is building on the foundations established in Foundation Stage. Children are exposed to a variety of materials and resources, focusing on language development including reading, writing, speaking and listening. These skills are also acquired through other subjects such as Mathematics, Science, History, and Geography. In addition, the technological advances in the world today give us the opportunity to access the Key Stage One British National Curriculum through a variety of different kinaesthetic learning directives. When students move on to Key Stage 2, they begin to be exposed to the broader spectrum of the curriculum, with a focus on Literature, Geography, History, Maths, Science, Fine Arts, French, and Music.
Key Stage 1 – Year 1 & Year 2
KS1 offers more formal learning based on the objectives of the National Curriculum. We place a great deal of emphasis on English – reading, writing, speaking and listening. Continuous provision sessions are delivered during some afternoons, which involve planned and child-initiated play and activities: communicating and modelling language, showing, explaining, demonstrating, exploring ideas, encouraging, questioning, recalling, providing a narrative for what they are doing, facilitating and setting challenges. The purpose of an effective continuous provision is to offer children a constant environment that is safe for them to explore while challenging their learning. It also allows children the freedom to explore and become independent in making choices. An important part of our curriculum is supporting children in becoming active learners; continuous provision allows children to demonstrate this aspect, and practitioners can closely observe this during students' play.
Synthetic phonics plays a crucial part in the life of a KS1 child. Phonics instruction is explicit and systematic. It is explicit in that sound-spelling relationships are directly taught. Students are told, for example, that the letter s stands for the /s/ sound. It is systematic in that it follows a scope and sequence that allows children to form and read words early on. Phonics is a method for teaching reading and writing of the English language by developing learners' phonemic awareness – the ability to hear, identify and manipulate phonemes – in order to teach the correspondence between these sounds and the spelling patterns (graphemes) that represent them.
Our English lessons are based around Talk for Writing, an initiative developed by Pie Corbett and supported by world-renowned author Julia Strong. Talk for Writing is powerful because it enables children to imitate the language they need for a particular topic orally before reading and analysing it and then writing their own version.
At TBS, we take a practical approach to mathematics. In mathematics, we aim to provide children with the tools to be successful. For a young learner, they need manipulatives to help them understand and see new skills and concepts. As the child becomes more confident we then move to visuals such as pictures before introducing the abstract; a calculation with no support.
Key Stage 2 – Year 3 – 6
In Key Stage Two, our lessons have been designed to make children's learning a creative journey. Lessons are skills- and knowledge-based, meeting the requirements of the English National Curriculum. The units studied are shared with parents in advance, along with suggestions on how they can support children's learning.
We offer a stimulating environment for learning, where every child can thrive and do well. TBS believes that every child deserves the best education possible and we aim to provide just that. Our aim is to give children a sense of purpose, encourage their confidence and facilitate their enjoyment of learning. Children are happy at our school because we provide a caring environment and give students the very best educational experiences during their junior years. We also provide a wide range of exciting learning opportunities for all children and support them in becoming independent and responsible young people.
Our expectations are high, and we encourage our students to rise to the challenge of learning, enjoy it and become life-long learners.
Curriculum Framework
Following the British National Curriculum, TBS abides by the learning framework of the curriculum.