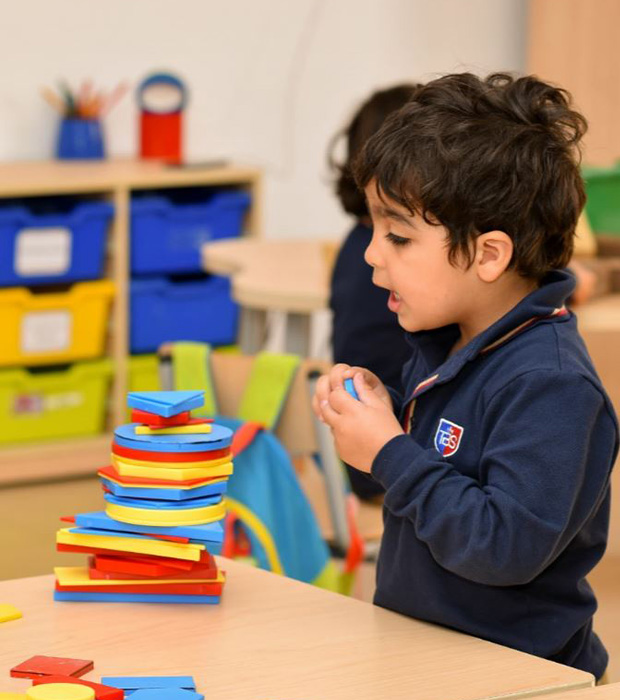 Foundation Stage
Welcome Message from the Head
On behalf of the whole team, I'm delighted to welcome you to the Early Years Family at GEMS British School Al Rehab. Leading Early Years is a responsibility that is close to my heart and one I take great pride in. I see it as an opportunity to create something special that can last a lifetime and really change the world for our children.
Curriculum Overview
Our mission within the Early Years department at The British School is to provide a caring learning environment that enables children to succeed as unique individuals and celebrate their achievements. Foundation Stage is where children are inspired and encouraged to develop an interest in learning for life within a happy, creative and secure space.
We aim to:
Create a stimulating learning environment geared towards ensuring each child achieves their full potential

Ensure every child receives a broad and balanced education of the highest standard while being helped to discover their individual strengths

Maintain a safe, caring, happy community where every child matters and each child feels safe, nurtured, loved and supported

Encourage respect for each other and for the environment

Create self-motivating, self-disciplined, confident, independent thinkers

Nurture the spiritual, moral, social, emotional and physical wellbeing of each individual for life

Build strong partnerships with families to create an open and welcoming school

Develop and promote lively and inquisitive minds driven by the desire and skills needed to explore new ideas

Foster a sense of awe and wonder, and develop natural curiosity so children enjoy learning both in and outside the school

Encourage our children to believe in themselves while equipping them with the fundamental skills to enjoy and achieve in life
Foundation Stage (FS) Curriculum Framework
Children develop quickly in the Early Years, and Early Years practitioners aim to do all they can to help children have the best possible start in life. Children have a right, spelled out in the United Nations Convention on the Rights of the Child, to provision which enables them to develop their personalities, talents, and abilities irrespective of ethnicity, culture or religion, home language, family background, learning difficulties, disabilities or gender. This guidance helps adults to understand and support each individual child's development pathway.