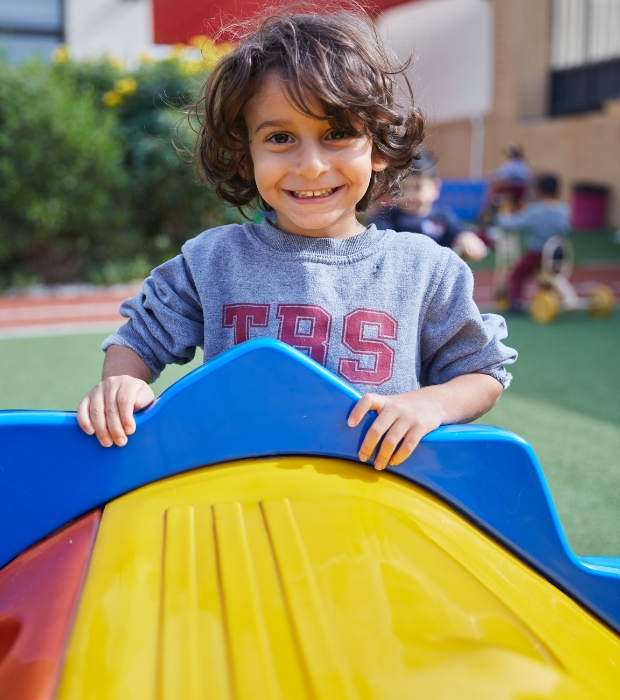 Foundation Stage
Welcome Message from the Head
On behalf of the whole team, I'm delighted to welcome you to the Early Years Family at GEMS British School Al Rehab. Leading Early Years is a responsibility that is close to my heart and one I take great pride in. I see it as an opportunity to create something special that can last a lifetime and really change the world for our children.
GEMS Core Values - How we live our Core Values everyday
1. Leading through innovation -Find the courage to challenge convention

We dare to dream of the possibilities

No idea is too small or too large if it makes things better for our learners and our people
2. Pursuing excellence -Work to continually exceed expectations

Just as we set educational standards for our schools, we ensure that everything we do is delivered to a high standard

We go the extra mile for our students and our colleagues
3. Growing by learning - Strive to develop your potential

Along with our students, we never stop learning

Each and every one of us has the capacity for leadership
4. Global citizenship -Making an active contribution to your local and global community

We respect and celebrate our diversity and recognize that there are many things that unite us all

We make a difference in our local communities so that we can build a sustainable planet to share

We build bridges of knowledge, push boundaries and unite young people.

We aim to produce not just great students, but great people who live with honesty, confidence and integrity
Curriculum Overview
Our mission within the Early Years department at The British School is to provide a caring learning environment that enables children to succeed as unique individuals and celebrate their achievements. Foundation Stage is where children are inspired and encouraged to develop an interest in learning for life within a happy, creative and secure space.
We aim to:
Create a stimulating learning environment geared towards ensuring each child achieves their full potential

Ensure every child receives a broad and balanced education of the highest standard while being helped to discover their individual strengths

Maintain a safe, caring, happy community where every child matters and each child feels safe, nurtured, loved and supported

Encourage respect for each other and for the environment

Create self-motivating, self-disciplined, confident, independent thinkers

Nurture the spiritual, moral, social, emotional and physical wellbeing of each individual for life

Build strong partnerships with families to create an open and welcoming school

Develop and promote lively and inquisitive minds driven by the desire and skills needed to explore new ideas

Foster a sense of awe and wonder, and develop natural curiosity so children enjoy learning both in and outside the school

Encourage our children to believe in themselves while equipping them with the fundamental skills to enjoy and achieve in life
Foundation Stage (FS) Curriculum Framework
At GEMS the British School, Al Rehab, children in EYFS follow the UK Early Years Foundation Stage Curriculum. Learning to inquire into the world around them and to develop a set of transdisciplinary skills helps children to become independent learners. A wide range of learning opportunities, within and outside of the classroom, add breadth and interest to our programme of study. This brings to life our children's learning and develops their academic learning as well as their personal and social growth. Underpinning their academic learning is our commitment to ensuring every child achieves their best by developing a set of attributes we believe are necessary to become well-rounded members of an international community of learners. The curriculum focusses on the GEMS Core values and Jewels of Kindness.